Auckland to Sydney on Air New Zealand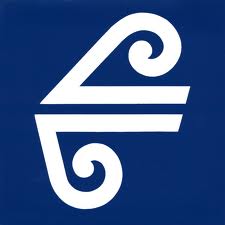 Three weeks in New Zealand flew by very quick and it was time to continue with my adventures. Next on the list was a (relatively) short hop back to Sydney for a couple of days to (hopefully) pick up my Brazilian visa before heading over to the fifth continent - South America.
Airport Express Bus
Auckland airport is a bit far from the city itself and the only public transportation option is to take the Airport Express bus for quite steep $16 one way trip. During the day it runs every 10 minutes, but in the early morning hours the intervals are a bit bizarre alternating between 30 and 50 minutes. Because Air New Zealand's computer system is complete rubbish (more on that in a bit), I wanted to get to the airport with the advised two hours to spare, meaning I would have to catch the 6:20am bus from the city.
There I was, standing at the bus stop with my couchsurfing host Michael and two other gentlemen waiting for the bus. We saw it coming more or less on time, one of the gentlemen signaled the driver, and then the four of us became speechless when it just drove past us. It stopped at the nearby intersection waiting for a green light so we ran after it, but the bus driver still would not let us is saying we had to signal him to stop at the bus stop. We said we did and he just waved his hands and drove off (note to self - in the future, go stand in front of the bus). Three of us ended up splitting a cab ride, still paying almost double of what it cost for the bus. Yey…
Air New Zealand Computer Systems and Check-In
The first time I used Air New Zealand's website to look for flights from NZ back to Australia, I was shocked how slow it was, partially because of the actual response time, but also due to unnecessary CAPTCHA screens popping up every time I tried to run a search (and later when I tried to check my reservation details). Do hackers really like to spam ANZ website that much? I would think there is plenty of much bigger airline fish to fry in that regard. It just seemed way over the top.
Adding insult to injury, I could not reserve a premium economy seat (with extra leg room) during the booking process. Sure enough, I could pay extra for the seat assignment, but it would just get me a regular seat. For whatever reason, I could not even do it over the phone - I would have to wait until check-in time to 'upgrade'. Furthermore, ANZ does not offer any sort of online checkin for international flights. So, off I went to the airport early to try and snatch one of those seats. Once there, I was directed to the check-in kiosks by ANZ staff saying that I can pay for the extra legroom while checking in. I went through the process, but that did not turn out to be the case and I was told by another ANZ employee that I had to go to their service desk to do that. Fortunately, the gentlemen there seemed to know what he was doing and I got a bulkhead seat for free. Yey!
Auckland Airport
The international terminal seemed to be pretty small with both check-in areas an arrival areas being on the same level. Upstairs were customs and security check as well as all the shops and dining areas. There were also a few work areas set up for people to get on their laptops before the flight, but I could not pick up any free WiFi.
Boarding
The boarding announcement went on for my flight so after about ten minutes I packed up my things and headed to the gate. Once I got there, nobody was boarding, they were still preparing for it - what the heck? In fact, we did not board for another twenty minutes or so. Once on board, I found myself seating next to a couple with a lap child. Great… The 767-300 aircraft seemed ok on the inside, but the tiny overhead bins gave out its age. On the other hand, the bulkhead row seats were the tiniest I have encountered. Besides storing the table and the monitor in the armrest, the control panel for the monitor was also embedded into the right side, shaving off another three quarters of an inch in space. The safety video was nicely done, pretty funny and entertaining so I actually put away whatever I was doing and paid attention just out of curiosity.
The Flight
Once we took off, the flight attendants offered me to change the seat to one of the premium economy seats that I wanted to get in the first place. Essentially, it is similar to the domestic business class seat with lots of legroom and only two seats per row instead of three. It did not have a TV monitor, but I did not care. Since I have been up early, I slept through my flight and woke up to see the crew collecting lunch trays from what seemed like everyone in the economy class. Either I just missed a free lunch or lots of people paid for theirs. I still got some hot tea to go with the leftover chocolate bar I just had to finish (no food allowed into Aussie).
Sydney Customs
I actually forgot how horrifying the customs line was the first time I got into Sydney from Bangkok. Fortunately, I had the Express Line pass from Thai Airways and did not have to deal with it. I was not that lucky this time around. After going through passport control and then randomly interviewed by another agent (What countries have you been to? Where are you going, Why only two days in Sydney? Boy, was he in for a story!), I grabbed my bag and got into an insanely long line for the exit. Somehow the second, shorter line formed around the corner and then, by the time we got closer to the exit, a third line formed by the people that just got their bags from the Auckland flight. So pretty much everyone was jumping the huge line but none of the customs people seemed to care. Lucky me.