No Regrets (or Why I Am I Glad To Be Back)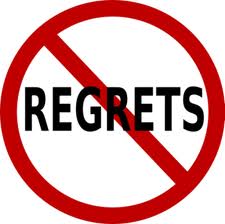 Regret is usually a waste of time...

-- The Thomas Crown Affair
Just a few weeks ago I made the decision to cut my round-the-world trip short. That is, as short as seven months of living out of my backpack, traveling through five continents and 21 countries could be.
Because of all the little things that ticked me off in a couple weeks prior to that, I felt very relieved and happy to make that decision. Still, in the back of my mind, the thought of 'giving up', not finishing the trip as 'planned', not hitting up all twenty four countries, not seeing Machu Picchu - it all kept nagging me. Never mind that original 'plan' was to come back after six months. Deep down, I was still regretting it a little bit.
Fast forward three weeks and I regret it no more!
More Travel!
A friend of mine just added me to his flight benefits on one of the legacy airlines, meaning I can fly anywhere in the US essentially free. I have already went down to Texas to meet up with him and another friend of mine that just recently got back from her own trip as well - we were hanging out in Kuala Lumpur less than five months ago!
Trips to visit and catch up with friends in California, Oregon, Ohio, Kentucky, and Florida are on the drawing board.
So is a road trip through the four northern states that I have not been to yet.
I also have an invite for a three week long trip to Africa (Kilimanjaro, safari, kite surfing in Zanzibar)  that I am running the numbers for. If that turns out to be too expensive, there is an RV trip through Alaska happening at the same time - not a bad alternative either.
Heck, come to think of it, I might even fly down to Peru for a week and cross off Machu Picchu off my list!
[Re]connecting With Friends
Besides visiting friends all over the place, I am now surrounded by quite a few of them here - a family friend just moved down here for a new job. A couchsurfer I had a great time with in New Orleans just bought a house an hour or so away from here. Another good friend I met through couchsurfing in Kansas City is coming to visit her family down here and we are meeting up this weekend.
Furthermore, during my short time here I have already met some new awesome people! Quite frankly, it has been pretty easy to capture people's attention here with a rather atypical answer to a typical question of where I was before I ended up in this area.
World Domination Summit
Dustin from Skinny Backpacker blog, whom I met in Chiang Mai, had an extra ticket for the otherwise sold out World Domination Summit. At $450, it was not looking like a great deal until I read the post from Dave raving about his experience there last year.
I met Dave the same night I met Dustin while we shared some amazing Thai food and delicious fruit shakes. Both of them are successfully running their businesses remotely, traveling and living in places most people have not even heard of (Dustin spent the last few weeks traveling in Burma).
As you imagine, it did not require much convincing for me to snatch that ticket and I have already reached out to another person who lives nearby and plans to be there.
Until then, I am pouring over the awesome book bundle from the $100 Startup's 72 hour sale, which leads me to the next point.
Starting A Business
Slow down, all you venture capitalists out there! I am not there yet, but I have been more serious than ever about trying to start my own side business. I have toyed with a few ideas in the past but it is time to get my hands dirty and do it!
On Monday, I am heading out to the local UPS store to get a mailbox.
Then it is time for LLC application (deciding between LegalZoom.com and myUSAcorportation.com, any advice?)
While I am not sure I am ready to make it my full time job just yet (I am exploring my options there as well), I will give it a shot and see what happens!
Of course, the added bonus of forming an official business, is all the lucrative credit card sign on bonuses I will sure be taking advantage of once again, but more on that later.
In the mean time, I signed up for BuddySchool - a website where anyone can make some pocket money offering lessons in anything to anyone else out there with majority of 'instruction' being done over Skype. I decided to start out by offering people that are learning English a chance to practice it in a conversation (inspired by my recent adventures in Sao Paulo) and I already have a trial lesson scheduled.
So am I excited to be back? You betcha!