The Most Beautiful Drive In The World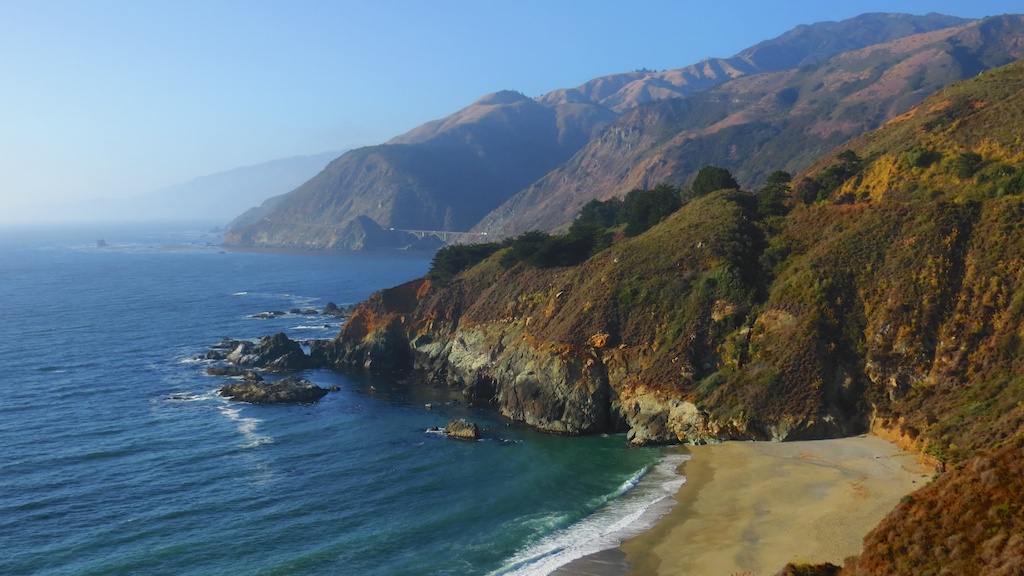 The ocean, the rugged coast, the mountains, the beaches, beautiful parks, wild animals, crazy weather and picturesque towns on the way - California State Route 1, otherwise known as Pacific Coast Highway, has it all! And I got to experience most of that, all in one day, thanks to my sister's decision to move to San Francisco once she graduated last year. To be honest, I was a little bit skeptical before the trip. Sure, everyone and their favorite magazine raves about the drive. But this is also true for New Zealand and I was pretty disappointed by the drive along the west coast of the South Island when I was there last year.
So, in September of last year, my sister and I set out to see it for ourselves. In two days we covered the distance from Oklahoma to Ventura, California with the highlight of that drive being the enchanting New Mexico. On our last day we decided to follow the California State Route 1 for as long as we could on the way up north to San Francisco.
Shortly after our morning stop in Santa Barbara, we got off the Highway 101 onto California 1. We were nowhere near the coast at this point but we figured we might as well do as much of the drive as we could.
In retrospect, that was the only wrong decision we made that day. Sure, it was nice to stay off the highway, but there was not much to see. Farm fields and hills, some traffic and that's about it. Because it was only one lane in each way, with a bit of farm traffic here and there, we could of probably saved some time by continuing on Highway 101 instead as we did run out of daylight by the time we got to Monterey. But I get ahead of myself.
We met up with Highway 101 near San Luis Obispo and it was already lunch time. Not knowing what's good around town, I did what anyone would do - send a quick message to my friend Marc from Munich, who just have happened to drive this route a month earlier and raved about the town. Who needs TripAdvisor when you have friends? Even if they are half the world away!
With our bellies full, we have finally reached the coast at Morro Bay (check out the beautiful panoramic view of Morro Bay in one of my Case of the Mondays posts).
Just a bit further north, we just had to pull over to enjoy this view of San Simeon bay.
While there, we made friends with two squirrels that did not seem to mind our company.
They were so friendly!
But off we went, next stop - the Hearst Castle. An actual freaking castle on the west coast of US of A!
Originally built for a newspaper magnate, it now serves as a nice tourist trap attraction. But we had no time for that.
Instead, we pulled over at another trap - the Elephant seal colony not far away.
As many seals as they were laying around on the beach, there were even more tourists gawking at them from the board walk. So we pressed on.
The weather has been beautiful all day - sunny and blue skies along the way. But it was quite chilly. So while we were burning up inside the car, it was freezing when we would get out to take some pictures.
Some really awesome pictures!
For the most part, it was an open road ride with very little traffic, however, once in a while there was a bit of a jam.
As we kept on going, we started to realize that even the way we were doing it, we will not be able to finish the whole drive in a day. There were just too many awesome spots to stop and take pictures at. I was back in my New Zealand driving mood - driving on the wrong side of the road, coasting along then slamming on the breaks and pulling over whenever I would spot a nice view. No specially designated "viewpoints" required!
Our next stop was Pfeiffer Big Sur State Park. I do not remember why we decided to make this detour, but it doesn't really matter. After following a narrow road almost to the coast, we were treated to some nice views at the Sycamore canyon.
As the sun was on the way down and the winds picked up, it became really really cold. But I braced it [almost] gracefully in my flippie floppies.
So we retreated, rather quickly, to the full-blasting heater in our car and kept pressing on. The clouds were starting to roll in while the sun was coming down and it made for some highly-contrasting images.
We kept pressing on to reach the Bixby Creek Bridge before it would of gotten too dark. It is one of the most scenic and highly photographed spots along the route. Unfortunately, we ran out of time and cooperating weather to try and replicate some of the awesome shots I have seen so we just snapped a few pictures while trying not get frozen and/or blown off the cliff.
[What happened to all that nice weather???]
And that was it. It got dark, really dark, soon after we crossed the bridge and by the time we reached Monterey, there was no point to keep going along the coast. And it was already around 8pm. We originally told my sister's boyfriend to expect us around 5...
So we hopped back on the freeway and spent the next hour and a half making our way up to San Mateo. I was looking forward to some nice seafood as a reward for my selfless sacrifices the last couple of days (tough job, I know!) but by the time we finished the drive and unpacked the car, the only place left open was the good ole' IHOP.
Silly California.
I loved it!
More pictures from the drive.